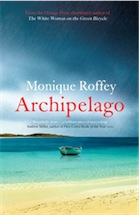 Archipelago by Monique Roffey
A fearless tale of a father, his 6 year old daughter, and his dog as they voyage through trauma and loss while exploring the natural wonders and challenges of the sea.
  The Eye of God by James Rollins – a Sigma Force novel
  The Last Original Wife by Dorothea Benton Frank
All of her husbands cronies have replace their wives with new Barbies. Les thinks her life is comfortable, therefore acceptable. Then while out golfing with the guys, she falls down a manhole unnoticed. This changes everything…….
All the Summer Girls by Meg Donohue
"Beach Book Extraordinaire! Donohue's three protagonists are irresistibly sympathetic as they try to unbury their true selves from the ruinous secrets of their shared past." –Elin Hilderbrand. bestselling author of Beautiful Day
  The Rebellion of Miss Lucy Ann Lobdell by William Klaber
Excertped from goodreads.com:
One day in 1855 Lucy Lobdell cut her hair, changed clothes, and went off to live her life as a man. By the time it was over, she was notorious. The New York Times thought her worthy of a lengthy obituary that began "Death of a Modern Diana . . . Dressed in Man's Clothing She Win's a Girl's Love."
  Little Wolves by Thomas Maltman
from a review on goodreads.com:
Set on the Minnesota prairie in the late 1980s during a drought season that's pushing family farms to the brink, Little Wolves features the intertwining stories of a father searching for answers after his son commits a heinous murder, and a pastor's wife (and washed-out scholar of early Anglo-Saxon literature) who has returned to the town for mysterious reasons of her own. A penetrating look at small-town America from the award-winning author of The Night Birds, Little Wolves weaves together elements of folklore and Norse mythology while being driven by a powerful murder mystery; a page-turning literary triumph
  Love Finds You in Daisy Oklahoma by Nancy Hanna
Set in 1912, Rena arrives in town to help with children who were orphaned after a tornado. She plants a garden at the orphanage and soon begins to wonder if she's taken on more than she can handle.
  Norwegian by Night by Derek Miller
Excerpted from goodreads.com:
A profoundly moving, deliciously suspenseful novel about an American grandfather and a newly orphaned boy racing across the Norwegian wilderness, fleeing demons both real and imagined.
Lethal Investments  by K. O. Dahl – another novel set in Norway
Looking for Me by Beth Hoffman, author of Saving CeeCee Honeycutt
Love Finds You in Mackinac Island, Michigan by Melanie Dobson
The Other Typist by Suzanne Rindell – a mystery set in the 1920s
 Red Moon by Benjamin Percy – a thriller set the in American West
Snow Child by Eowyn Ivey – set in 1920s Alaska
Storm Front by Richard Castle – a Derrick Storm thriller
 The Survivor by DiAnn Mills – Crime Scene Houston #2
Take a Chance on Me by Susan May Warren – A Christiansen family novel
Together Tea by Marjan Kamali – chronicles the life of a 25 year old Iranian-American female.
The Yonahlossee Riding Camp for Girls by Anton DiSclafani – set in the midst of the Great Depression
Angora Alibi by Sally Goldenbaum – a seaside knitters mystery
Bad Monkey by Carl Hiassen – a suspense novel based in Florida
Between Heaven and Texas by Marie Bostwick – prequel to the Cobble Court Quilt series
 The Bookman's Tale by Charles Lovett – a tale of obsession
Choke Point by Ridley Pearson – another suspense story, this one set in the Netherlands
A Delicate Truth  by John Le Carre
Doll by Taylor Stevens
The Engagements by J. Courtney Sullivan – one diamond ring and four couples
Fear in the Sunlight by Nicola Upson – a suspense novel
Flora by Gail Godwin – set in the final months of WWII
A Girl Like You by Maureen Lindley – a Japanese-American girl is sent to an internment camp during WWII
Her Last Breath by Linda Castillo
The House at Tyneford by Natasha Solomons
Is This Tomorrow? by Caroline Leavitt
Island Girls by Nancy Thayer
Jewelweed by David Rhodes
Ladies' Night by Mary Kay Andrews
Beautiful Day by Elin Hilderbrand
The Ocean at the End of the Lane by Neil Gaiman
Shadow Tracer by Meg Gardiner
Sisterland by Curtis Sittenfeld
The Son by Philipp Meyer
Protector by Diana Palmer
Second Honeymoon by James Patterson
Enjoy the summer!!!
Tammy